Wow I have been lazy and haven't updated my blog for a while.  I finally got my Viewsonic gTablet and it's a pretty decent device.  I found it really difficult to put on a screen protector (to be honest I've never had good luck putting on any screen protectors on any of my devices).  With the screen on the gTablet being so big it was really difficult to get the screen protector on straight and without little bits of lint and misc under the film.
Recently some rom developers managed to get Honeycomb onto the device which is what I'm running right now.  It works pretty well really, my biggest complaint is that flash doesn't work yet.  The libraries for Honeycomb are cobbled together so that's likely why but a large portion of the OS and device work well (hardware acceleration, wifi, browsing, google apps like gmail and the market).  It's a shame that Viewsonic basically abandoned the device but thankfully so much of it is unlocked that it's very easy to put new ROMS on it (and it has such an active community) that it makes up for the lack of support.  The fact that it's less than 1/2 the price of the next true Honeycomb tablet makes it easier to ignore the quirks of the device as well.
I finished Crackdown 2 on XBox,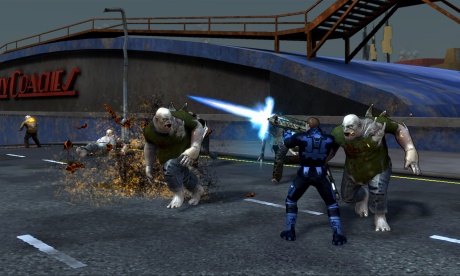 it was a pretty big disappointment mostly because I loved the first game so much.  I found climbing in the game to be a lot more frustrating and buggy.  Things that I know I could climb in the first game were impossible to climb in the second.  The lack of story in the first game was annoying but the second game had even less of a story.  The character progression seemed a lot less fun too, they added more orbs (because more is better right?) but it just made the progression a lot less fun.  I never felt the sense of accomplishment that the first game had when you 'leveled up'.
I started playing a new Indie game called Terraria.  
It's pretty simplistic but a lot of fun.  It follows the vein of your typical dungeon crawling Diablo/Larn/Hack game but a lot of the game follows the new genre Minecraft type game.  So far it's pretty addicting but sadly it's Steam enabled which means I have to be online (and not at work) to play it.